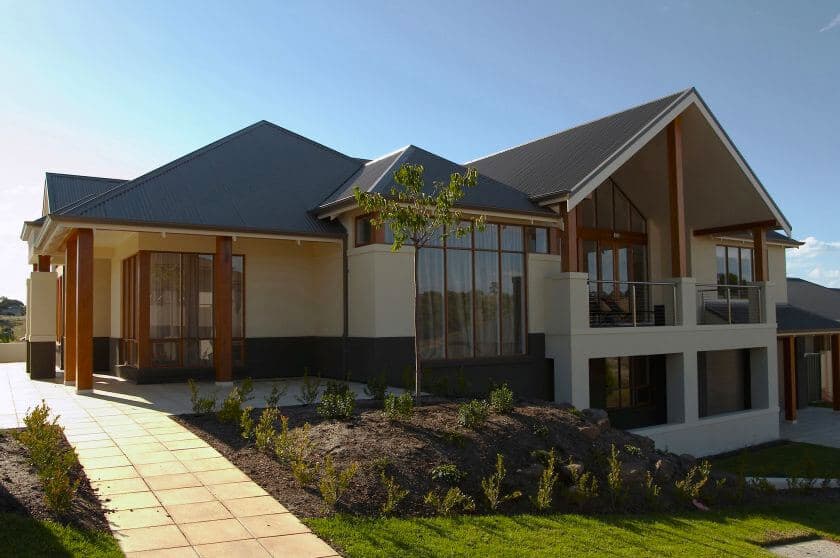 Pros and cons of a split-level house
Building a split-level house is an excellent way to take advantage of your available space and to make the most of your sloping block. Like all types of homes, split-level houses do have their pros and cons, but before we jump into those, let's first address what a split-level house actually is.
A split-level home, in its simplest sense, is when the floor levels are staggered. The floors typically only require a small set of stairs and can be split in just about any direction – front, back, sideways, up and down. The home could be single storey on one side and double storey on the other, or the home could simply be raised in one area. Split-level homes are often designed for sloping blocks where the home is built into the natural angle of the land. Typically, the aim of split-level homes is to work with the natural landscape of a block, to make the most of available space and to save money by not having to dig super deep into the earth. In saying this, due to the aesthetic look and space advantage, some people are opting to build split-level homes even when their block is not small or sloped. Split-level homes were incredibly popular as their own style/design in days gone by, but they are starting to make a comeback and we can see why. Staggered floor levels, short sets of stairs, angled windows, views for days… Yes, please.
SPLIT-LEVEL HOUSE PROS:
#1 SPACE UTILISATION
The main benefit of a split-level home is the fact that it utilises more of your available space. Split-level homes ensure that very little land is wasted because it allows for floor spaces to overlap. The downstairs of the split-level home is often for living, dining and kitchen. These rooms are often larger than their upstairs counterparts as they have more space to work with due to being on a lower level. You could also dig into the slope of your block to create a true two-storey home, however due to the additional costs that would incur, most people opt to save some cash and go for a split-level home.
#2 BETTER ELEVATION AND VIEWS
Wherever your block is located, there is no doubt that split-level homes provide better elevation and views, whether it be of your neighbourhood, the beach, a park, or whatever else your surroundings are. For upward sloping blocks, the upper level of a split-level home is often above ground level, which allows for the residents to take advantage of the beautiful scenery, whatever it may be. You might also find blocks that are on the top of a hill or cliff, overlooking the area below, in which the blocks could be downward sloping and your split-level would likely be a two storey at the back, with the top storey being at street level.
#3 COST SAVING
There is a common misconception that building a split-level house is more expensive, when in fact it can be quite the opposite. Of course, generally speaking, a split-level will cost more than most single-storey, however it will cost less than the traditional two-storey. There are also many cost saving benefits particularly in terms of earthworks (moving soil, adding soil, retaining walls, etc.). When building a split-level home these costs are significantly reduced as you are working with the natural landscape instead of trying to change it. By saving money in this area, you will have more available resources to put towards additional features of your new home.
#4 AESTHETIC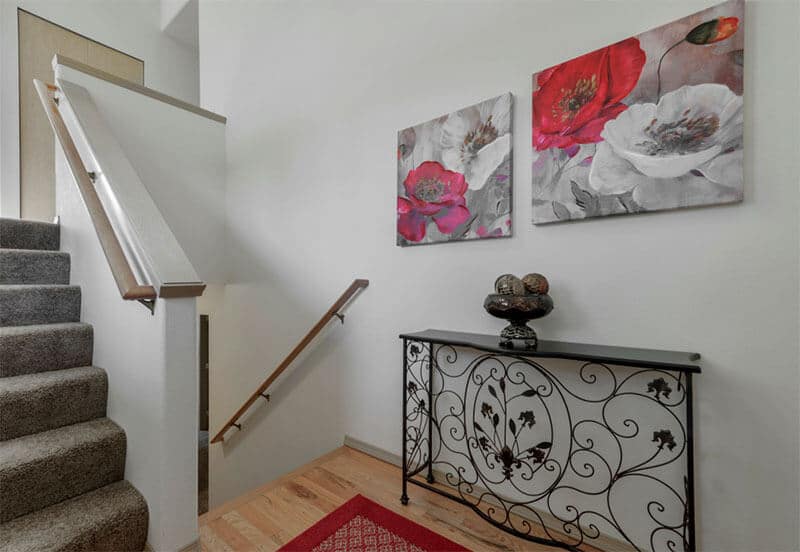 Whilst there are functional benefits to building a split-level home, there are of course aesthetic benefits too. Staggered floor levels, short sets of stairs, picture windows and unique designs – what's not to love. This is also in terms of interior design as split-levels can give your home a more spacious appearance, making them feel larger and more luxurious. The split of your home can also serve to separate or create different areas of your home. Keeping bedrooms and living areas separate is often a popular choice, or even a level for the adults and the other level for the kids. Split-level homes are great for creating an increased level of privacy and noise reduction in this sense.
SPLIT-LEVEL HOUSE CONS:
Here are the cons that you should be aware of before deciding if this type of home will suit you.
#1 ACCESS TO THE BLOCK
One of the main cons of building a split-level home occurs during the construction stage. Depending on the slope, it can sometimes prove difficult to access steep sites with heavy machinery. Whilst this is not completely detrimental, it is vital there is enough space so trades can easily drop off supplies without getting too close to neighbouring structures – as well as being able to manoeuvre their vehicles into and out of the property. If cranes or other machinery are required, you'll likely incur an additional cost for these services. Just make sure this is specified before you go ahead with your build.
#2 DRAINAGE
Drainage… it can prove to be difficult, particularly if you are building on a block with a steep slope. Whilst this may not become a major issue, it just means that your home may require a more complex plumbing solution in order to drain water away from your home and prevent flooding. This is why once again, it is vital to work with your builder. At Lofty, we will assess your block and deem what is necessary to ensure a safe and successful home build.
#3 STAIRS
Obviously a split-level home will not suit everyone's lifestyle or needs due to the stairs involved. Whilst there are benefits to living in a split-level home, for some people stairs can pose an issue. For example, if someone has mobility issues, walking up and down stairs may prove difficult, or if there are young children in the home, the stairs can pose a safety risk. In saying this, even if one does not have mobility issues, moving between floors on a split-level may just frustrate some people (think cleaning, bathroom locations, etc.) And these hesitations are fair to have. Split-level homes won't be for everyone, and that's ok.
#4 RENOVATING
Renovating or adding to a split-level home can be a challenging and expensive endeavour. Due to there being multiple levels throughout the home, sometimes stacked on top of one another, certain projects or additions may not be feasible to complete, or may just be a lot more costly to complete. In addition to this, access again will pose an issue here, you'll want to avoid craning in materials and equipment unless it is an absolute must!
So there you have it, the pros and cons of building a split-level house. Deciding on whether this would suit you and your lifestyle is a question only you can answer, but there are definitely strong arguments for both. Remember, you'll only really need to consider a split-level home if you have a sloping block. Also, everything is easier when working with the team here at Lofty, we can help you design and build a home for your steep or sloping block.