Join the Lofty family and never look back
At Lofty, we love what we do and we love where we work.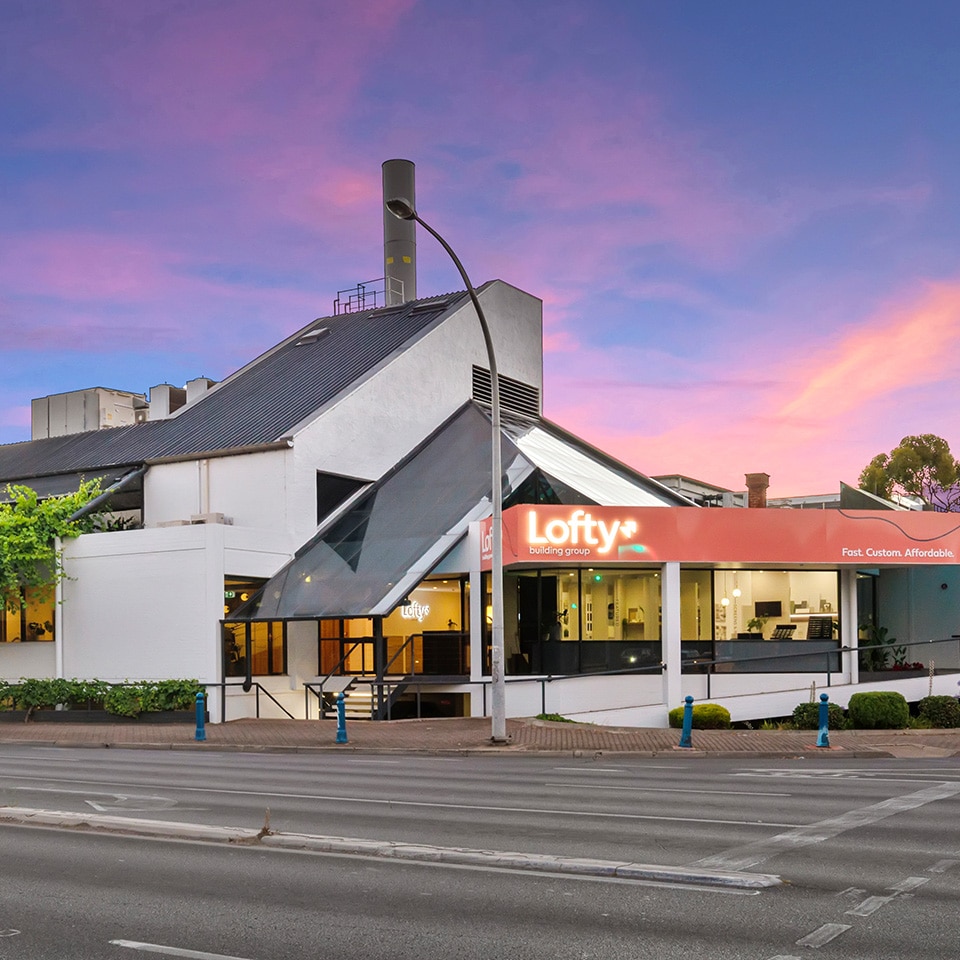 Our mission and vision
As custom home builders in South Australia, we pride ourselves on having a 'say yes' and 'can do' attitude, thinking outside the box to find solutions to problems in order to continue to deliver stylish, award-winning homes and developments that our clients can't get enough of, while making the journey an easy, stress-free, transparent and enjoyable experience.
It's about making it happen for our clients, and shaking things up in the residential construction industry for the better.
We want clients to be engaged and excited about their project, with the confidence that their project will run on time and on budget.
To this end, our super team aspires to build a South Australian icon, setting the bar as high as we can in order to exceed expectations at every turn.
We're dedicated to hiring exceptional people who share in these passions, and we are committed to being an employer of choice, fostering a healthy workplace with opportunities for personal growth and career progression.
Current opportunities
Marketing Coordinator
We are at a very strong stage of company growth due to existing projects and upcoming developments and are looking for a Marketing Coordinator to join our dynamic team.
This role would suit an experienced and switched-on Marketing Coordinator who will own the Lofty brand and take it to the next level alongside the Marketing Manager.
Tasks and Responsibilities
Design and production of marketing collateral
Monitoring our position and reputation across all platforms
Management, upkeep and testing of the company website (WordPress)
Writing and posting blogs in line with industry trends and business requirements
Order and maintain all site signage
Photography and videography coordination for our projects and custom homes
Content creation and regular posting on social media channels (Facebook, Instagram, LinkedIn)
General day to day management of social media
Responding to and managing company reviews across all platforms
Advertising across our digital channels (Social Media, Google etc.) including analysis and tracking of performance
Liaising with and managing external contractors (Graphic designers, web developers etc.)
Keeping up to date with industry news, legislation and trends
Ensuring brand guidelines are adhered to
Managing the Marketing pipeline and sales reporting in the CRM
Adhoc duties as required
Key Criteria
Minimum 1 year experience in a marketing role managing activity across various marketing disciplines
Experience with Google Ads (SEM) and SEO
Working knowledge of Adobe Creative Cloud (specifically Photoshop, Illustrator and InDesign) and Canva
Eye for creativity and attention to detail
The ability to proofread and edit documents
Experience creating and managing marketing materials
Ability and experience prioritising competing deadlines
Able to work independently and as part of a team
Ability to problem solve and work in a high-pressure environment
Own reliable transport
If this opportunity excites you and you think you have skills and experience that can add value to our team, please don't hesitate to apply on seek!
This role is for an immediate start, and interviews will be conducted once suitable applications are received.
Selections Consultant
Due consistent and sustained growth we are looking for a full-time Selections Consultant to join our talented and growing team.
Working as part of an already established selections team, you will provide a service to our customers to ensure their colours, inclusions and upgrades are all finalised for their new home. You will ensure documentation is accurate and correct with information supplied from Sales, Estimating, Drafting and other such internal departments.
Your new position will involve:
Booking appointments
Pre-construction colour and material selections with our clients
Accurately document changes, selections and upgrades
Preparation of variations, credits and selections documentation
Diary and email management
Preparation of selections files
Preparing final Selection booklets for clients approval and sign off
Stay up to date on new, emerging market trends and product knowledge
Work in conjunction with internal departments to continually improve the overall customer experience
Our ideal candidate would:
Have previous experience in design within residential building and construction
Be an exceptional communicator and able to build rapport with a diverse range of clientele
Have Customer management capabilities, including excellent telephone and written communication, customer service orientation; conflict management and resolution skills.
Possess strong organisational and coordinating skills
Proven administration skills, including documentation, filing, follow-up actions, data entry.
Proficient computer skills
Ideally have a minimum 3 years experience with a high volume new home residential builder
This can be a demanding role at times where solid administrative skills can be just as important as creativity, so the ability to meet deadlines and have demonstrated planning, organisational and time management skills are essential.
Flexible work habits and the ability to positively contribute to a dynamic team in order to achieve set targets and KPIs is also crucial.
This is a great opportunity for you to make your mark and further develop your career with a growing and successful company. If you possess the skills and sales experience we are seeking, and would like to join a great team, then we would like to hear from you! Please apply on Seek.
Site Supervisor
Want to be part of something big?
Our company is comprised of staff who are genuinely passionate about building quality homes and setting the bar as high as we can in order to exceed expectations at every turn.
Due consistent and sustained growth, we are currently looking for a site supervisor to grow alongside the business and share our success.
As Site Supervisor, you will be responsible for day to day on-site activities, including;
Supervising all work carried out at you sites
Directing progress of stages and monitor compliance with construction documents
Interpreting building plans and adhering to regulations and codes of practice
Engaging with sub-contractors and scheduling of work on site
Arranging supplies of materials and equipment and verifying delivery
Maintaining clean and safe work sites by ensuring all OH&S procedures and processes are implemented
Completing quality assurance inspections
Being customer focused and meeting set expectations
Liaise with internal team members and external consultants
Essential to being considered for this role is your experience in managing multiple jobs at a time for a volume builder.
In addition, you should:
Be organised and be able to manage your time well
Have a strong ability to coordinate and manage trades
Be passionate about residential construction
Have a broad industry knowledge across trades
Have good technical knowledge across trades
Have good computer skills and be familiar with the Microsoft suite of programs
Be able to think on your feet and adapt to change when necessary
If you meet the above criteria and are interested in this opportunity, please apply on seek.
Only shortlisted applicants will be interviewed.
If we have no advertised opportunities, we're still happy to hear from you and are keen to find new stars to join our family.
Expression of interest for trades
Interested in working with us? We're always on the lookout for outstanding trades keen to work with one of South Australia's leading custom home builders.
Send us your details