Join the Lofty family and never look back
At Lofty, we love what we do and we love where we work.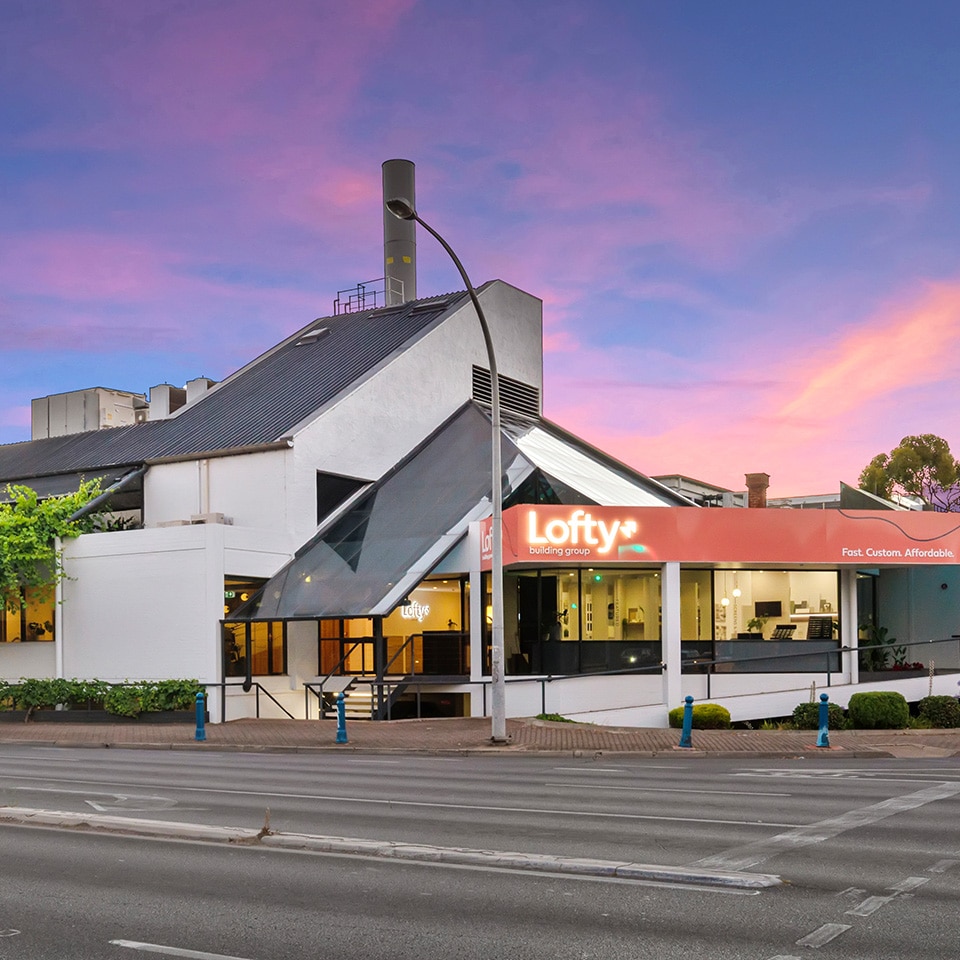 Our mission and vision
As custom home builders in South Australia, we pride ourselves on having a 'say yes' and 'can do' attitude, thinking outside the box to find solutions to problems in order to continue to deliver stylish, award-winning homes and developments that our clients can't get enough of, while making the journey an easy, stress-free, transparent and enjoyable experience.
It's about making it happen for our clients, and shaking things up in the residential construction industry for the better.
We want clients to be engaged and excited about their project, with the confidence that their project will run on time and on budget.
To this end, our super team aspires to build a South Australian icon, setting the bar as high as we can in order to exceed expectations at every turn.
We're dedicated to hiring exceptional people who share in these passions, and we are committed to being an employer of choice, fostering a healthy workplace with opportunities for personal growth and career progression.
Current opportunities
Building & Construction Administrator
The Building & Construction Administrator is an integral part of the day-to-day operations of our business.
This is the perfect opportunity for someone with the confidence and initiative to make this role their own, ensuring they have a genuine impact on the exceptional client experience that Lofty provides.
Ensuring the smooth running and upkeep of a range of construction administration processes, responsibilities will include, but are not limited to:
Providing effective and efficient support to the Operations Manager, including diary and email management and drafting correspondence
Database & systems maintenance, including Lofty Building Group site book (WHS System), project management systems, and general business operating systems
Assisting Management and Project Managers with ad hock duties as required
Document management and formatting, effective record keeping and coordination of project reporting
Scheduling and organising external and internal meetings, documenting and taking detailed meeting minutes
Managing relationships with clients and stakeholders, ensuring all requests are answered and actioned promptly
Key professional skills:
Prior experience & an understanding of the Building and Construction Industry will be highly regarded
Excellent administration skills with a high attention to detail, and strong written & verbal communication, is essential
Experience with MS Office; Excel, Word, Power Point is required
Be able to demonstrate problem solving, and an ability to multitask
Eagerness to learn and constantly improve through ongoing feedback and consultation with the team
High standards of ethics and integrity
The confidence and enthusiasm to get things done in a busy, high performing environment
A flexible and supportive approach – we want someone who is happy to pitch in and help out as needed!
If you think you might be the best person for this role, then we'd love to hear from you!
We are interested in speaking with highly motivated, results focused individuals who can hit the ground running, with the energy and commitment required for this role. If this sounds like you, please apply on Seek.
Only those selected for an interview will be contacted, therefore we thank all applicants in advance.
We will be conducting interviews as applications are received.
Construction Manager
Lofty is seeking a Construction Manager to oversee, support and produce high-quality residential project performance and delivery.
Reporting to the Building Manager, a key focus of your role is to provide strong leadership to ensure the construction process is controlled and adheres to strict safety quality and schedule requirements.
Some key accountabilities of this role include:
Lead, coach and mentor a team of dedicated Construction Supervisors
Monitor the build progress, ensuring that work quality and industry best practice techniques are of a high standard
Weekly reporting, including costs, quality and build times
Ensure compliance with Lofty Building Group WHS policies; ensuring that safety standards are always monitored and achieved in line with relevant processes and procedures
Liaise with trades and suppliers to ensure strong working relationships
Attend on-site and office-based meetings as required
We're looking for someone who has:
A solid understanding of residential building and construction
Previous experience in a similar role
A thorough understanding of Australian building regulations, WHS regulations and Quality Assurance (QA) systems
Hold a White Card
Hold a valid driver's licence
Ability to lead, mentor and support a diverse team
Commitment to achieving the highest level of customer service
Proven conflict resolution and negotiation skills
Computer literacy across the Microsoft Office Suite and other platforms
Excellent verbal and written communication skills
High attention to detail
Certificate and/or Diploma of Building & Construction (preferred)
We are looking for someone who not only knows how to build but is passionate about construction and achieving results. You are contractually sharp, have strong building knowledge and can lead a team at all stages of the construction process. Clients speak of your professionalism, and sub-contractors describe you as firm but fair.
If this sounds like your next opportunity, we'd love to hear from you as soon as possible! Apply online today through Seek.
Please note only shortlisted candidates will be contacted and your application will be treated as strictly confidential.
Senior Selections Consultant
We are currently seeking to employ a motivated and proactive Full-Time Senior Selections Consultant based at our office in Unley.
The successful applicant will receive ongoing guidance in all aspects of their role.
This role is an ideal opportunity for a motivated individual to gain experience in the construction industry whilst working alongside a close-knit team.
Key Duties and Responsibilities include (but are not limited to):
Managing the selections team and emerging documentation
Managing selections progress for upcoming builds
Establish systems and processes within the department
Leading team projects and selections team
Managing client and developer selections appointments for new home builds
Preparation of variations, credits and selections documentation
General administration tasks; answering and diverting phone calls
Preparation of files
Liaising with clients to resolve during and post-construction queries
Utility connections
Maintaining databases of client information
Data entry
Diary and email management
Booking appointments
The successful candidate should possess:
Strong time management skills
Strong communication skills
Ability to prioritise and multi-task
Exceptional organisational skills
Have the ability to learn efficiently
Excellent verbal communication skills
Able to work independently or as part of a team
A can-do attitude
High attention to detail, including the ability to proofread and edit documents
Access to reliable transport
Previous experience in managing a Selections team is essential
To be considered for this position, please apply on Seek.
If we have no advertised opportunities, we're still happy to hear from you and are keen to find new stars to join our family.
Expression of interest for trades
Interested in working with us? We're always on the lookout for outstanding trades keen to work with one of South Australia's leading custom home builders.
Send us your details