Building on a small block? Here's our top tips
The reality is suburban blocks are getting smaller as time goes on. The good news is that building on a small block does not mean you have to compromise on location or on certain luxuries in your home. Adopt the view that a smaller home can provide you with the same luxuries but at a lower cost due to there being less area to cover. The number one thing to keep in mind when building on a small block is to make the most of the space you have. With this idea locked in, here's our top tips for building on a small block.
#1 OPEN PLAN LIVING
The best way to make the most of your small block is to create a feeling of spaciousness. One of the most common ways this is done is through open plan living; where multiple rooms and functions are combined in one open area, instead of segregated by walls. Open plan living is fantastic for homes on small blocks because it can give the appearance of there being more room than there actually is. Some popular open plan living layouts are combining:
The kitchen and dining room

The kitchen and living room

The living room and outdoor entertaining area
Not only does this create a more spacious feel, but it's much more functional when multiple family members are moving around the home. Open plan living also allows families to spend time together in the same areas without feeling as though they are crammed in.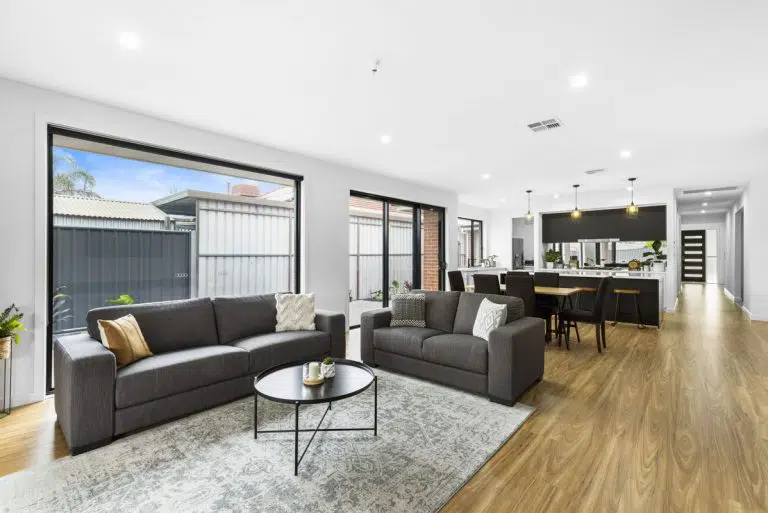 #2 HIGH CEILINGS
Another fantastic way to create spaciousness for a house on a small block is high ceilings. Although you may be limited in square meters, many of us seem to forget the space our block holds vertically. Of course there may be height restrictions to be aware of, but we recommend a ceiling height of at least 2.7m. High ceilings are also said to increase resale value and give you the opportunity to make a statement in certains areas (e.g. incorporating a 3m ceiling in your entryway) or throughout your home. At Lofty, our standard included ceiling height is 2.7m.
Extra tip – opt for downlights in main areas, as they don't hang down and cut into your extra ceiling height.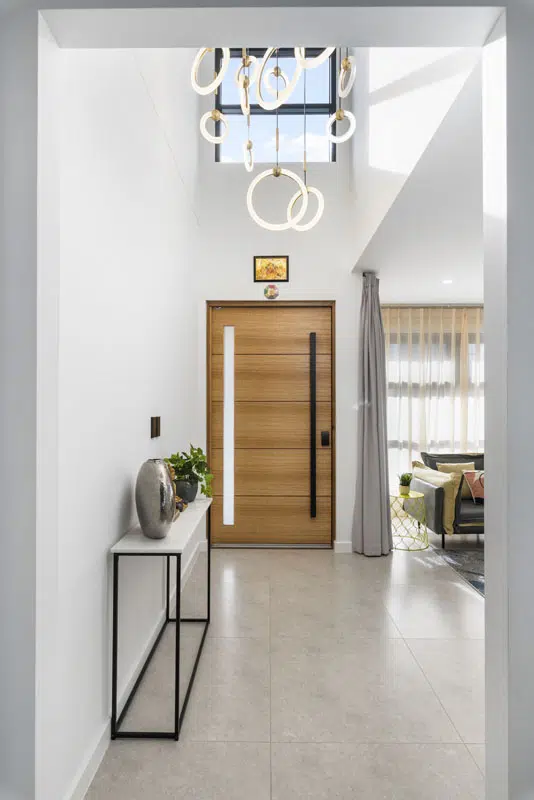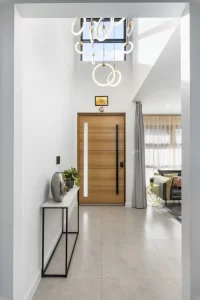 #3 BUILD UP
Whilst we're on the topic of utilising vertical space, let's discuss building a multiple storey home. This is one of the resourceful ways to make the most of a small block. By building upwards, you will be able to build in all the rooms you need and create more space for those items you desire, whether it be a larger backyard, butlers pantry, swimming pool, double garage, walk-in linen closet or anything else. Utilising the air space above you is a clever way to extend your home's footprint and maximise living space.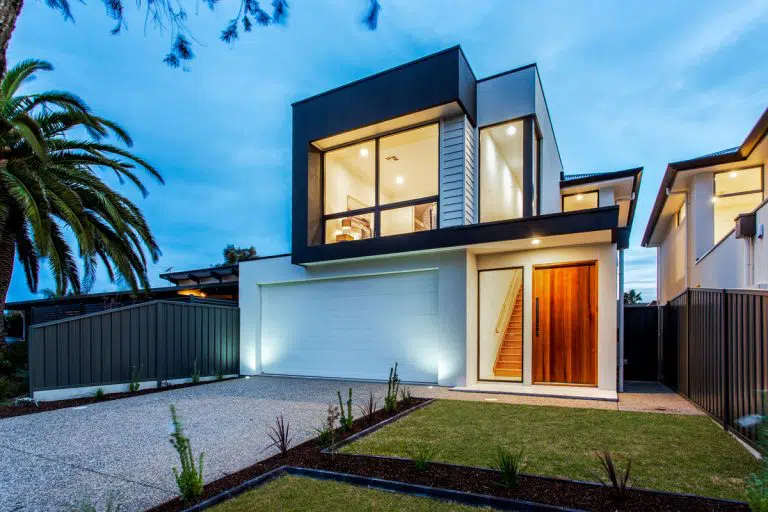 #4 CLEVER STORAGE
When building on a small block, clever storage is a MUST. You don't want to waste the little space you have, therefore you must choose storage options that help make use of the space you have. This is why alternative storage solutions are a great option to maximise space for houses on small blocks. Essentially this means making use of space that would not normally be used. This is a great way to avoid dedicating an entire wall or hallway to storage cupboards.
Some alternative storage solutions include
Cupboards under the stairs

Drawers under tables

Drawers under kitchen benches/ islands

Having a small laundry built in to a cupboard space, rather than an entire room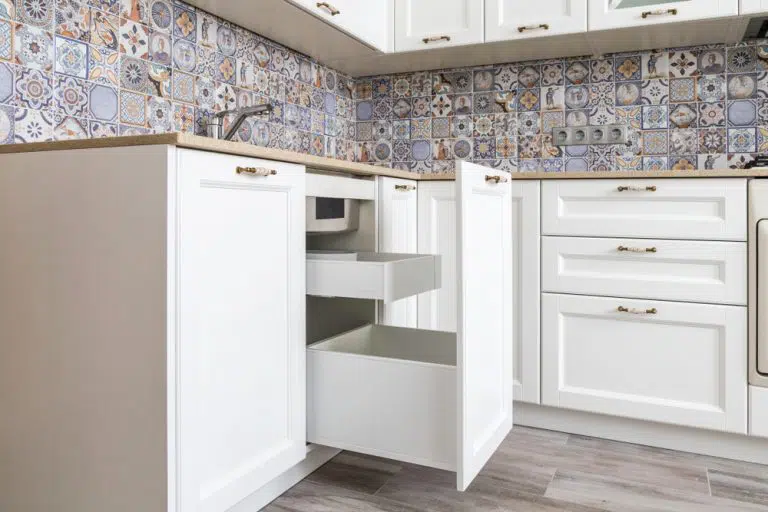 #5 MULTI-PURPOSE ROOMS
With a small block, it's all about building smarter, not smaller. A great way to do this is by adding multi-purpose rooms to your home. This simply means having areas or rooms that are used for multiple tasks. Combining the way a space is used is a simple way to maximise space. Some examples of this are:
Having a study nook in the living room, hallway or under the stairs

Kitchen bench with stools doubling as a dining area

Utilising the garage as a living room, man cave or games room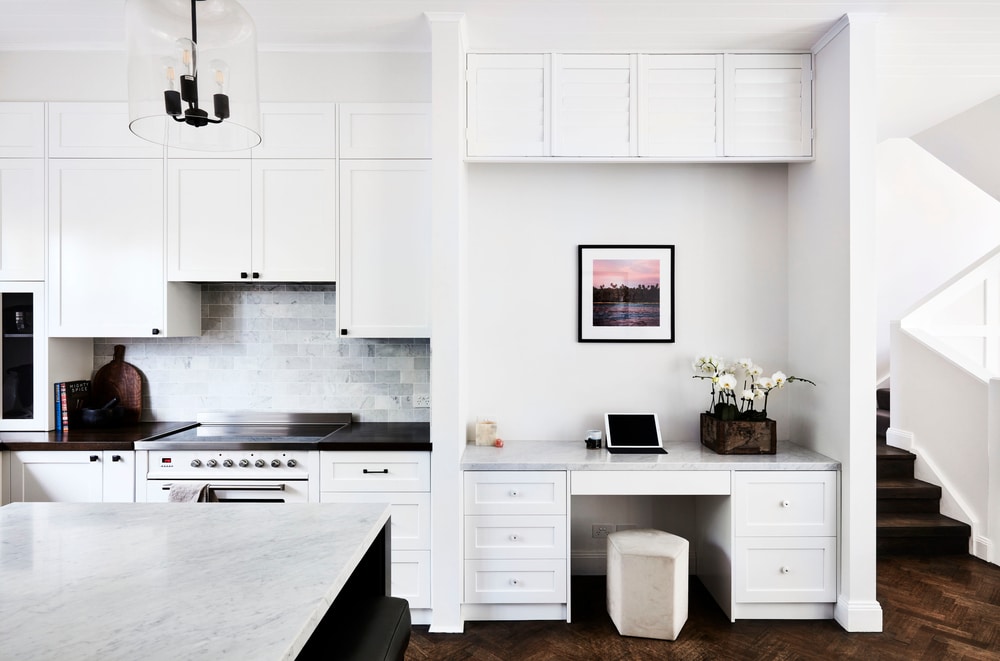 ADDITIONAL TIPS FOR BUILDING ON A SMALL BLOCK
Avoid dark fixtures, fittings, decor and paint colours

Find furniture that doubles as a storage solutions (e.g. under bed and within couches/ottomans)

Choose

doors

that are clear/ light in colour in order to not box in the space

Build as close to the boundary as possible (keeping in mind council requirements)

If your budget permits, building underground is a clever way to increase the space you have (think a garage, theatre, wine cellar, etc).

Voids, wall recesses and raked ceilings are other ways to give the illusion of more space

Hidden clutter = more visual space

Make use of

sliding doors

, especially pocket or cavity doors, as they take up less room than conventional doors and make everything feel more open

Include sufficient

windows

(

an abundance of

natural light

in the home can make walls more reflective, ultimately making spaces appear more open and airy)

Add an alfresco area to make the living area feel as though it extends to the back of the property

Implement a study nook in another area of the house instead of an entire study room (e.g. under the stairs, in the kitchen, etc.)

Use your kitchen island bench as a dining space

Try to avoid long hallways, whilst they look great they waste space, especially on a small block

Utilise flex-spaces so certain rooms or areas of your home can serve multiple purposes
Small blocks do not necessarily mean a claustrophobic, narrow looking home. The tips provided within this blog prove there really are options for those building on a small block. You do not have to compromise on any luxuries, there's always a way to make it work. It's all about building smarter, not smaller. Here at Lofty we help our clients to make the most of the space they have. Contact us today to make the most of your small block.