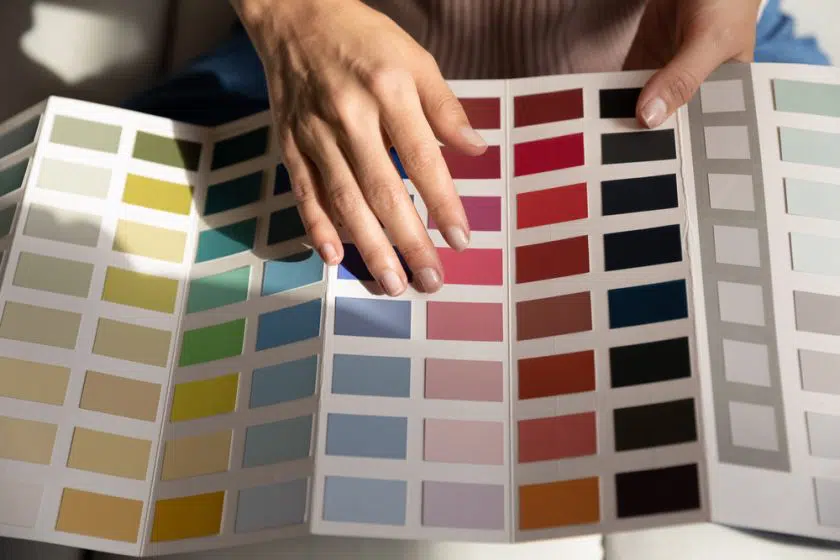 Elegant Ways to Incorporate Colour into your Home
Our homes are an extension of ourselves and provide a way for us to visibly express our personalities. Depending on the person or family, this will look different in every home. Some express themselves through architecture, whilst others do this through interior design, artwork and most commonly, colour. Whilst colour is great, if not incorporated appropriately it can make your home look tacky. In this blog, we will list and discuss some of the topmost elegant ways to incorporate colour into your home. Not to worry monochrome lovers, we will be covering a range of minimalistic ways to do this if colour is not your thing. Without further ado, let's get into it.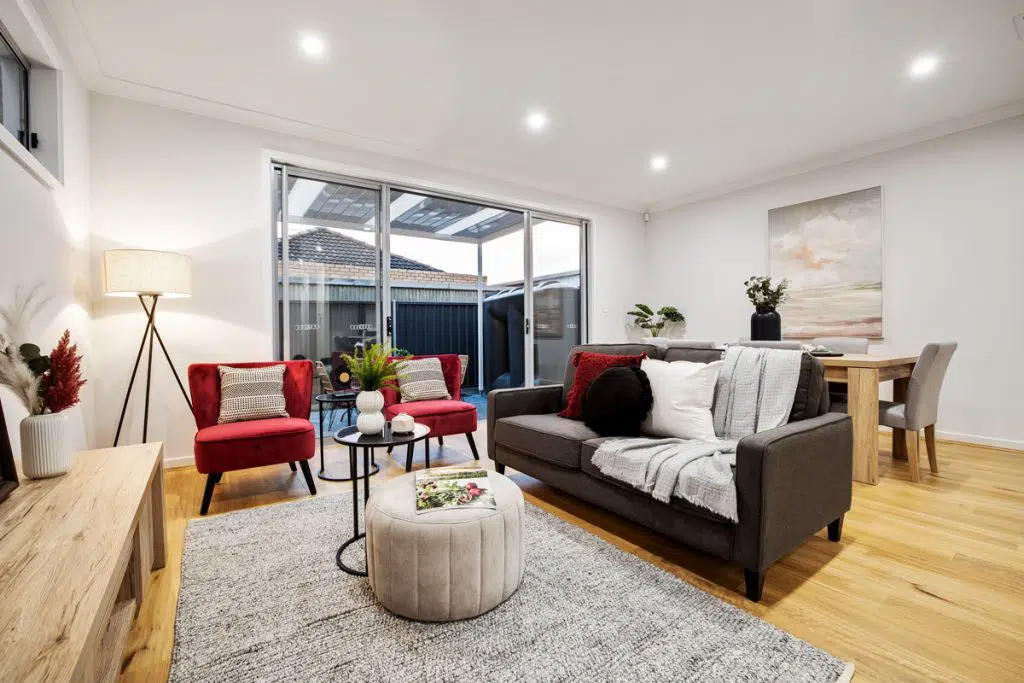 CONSIDER WHAT YOU ALREADY OWN
The best way to ensure any introduction of colour is welcomed into your space is by considering what you already own. Do you already have a brown leather couch in your living room? Then a grey and blue colour scheme probably isn't right for this space. Use tones that complement what you already have in the room to make the space pop. If you have some furniture or art that you really love, use those main colours to build your scheme around.
COHESIVE COLOUR GROUPS
Another way to ensure elegance throughout your home is to mindfully choose colour groups. This is not to say that every room in your home has to match, but your colour schemes should flow from room to room to give an overall cohesive look. This means choosing colours in the same 'temperature family'. For example, reds and oranges, greys and greens, blues and white, and grays and white are all examples of well-matching colours.
CONSIDER THE MOOD OF THE ROOM
Of course, it depends on your colour preferences, however, it is wise to consider the mood and purpose of a room when picking a colour scheme. For example, cool colours create calm and spacious environments and are therefore a great option for bedrooms. Whereas warm colours are inviting and are great in entertaining spaces and living spaces. Ensuring the colours chosen for a room suit the mood will ensure a timeless and elegant feel.
WALL COLOUR
When people think of colours at home, they most often think of the wall colour (not surprising since paint makes up a great deal of the colour within a home). This is the starting point for incorporating colour into your home; a trusty feature wall. Feature walls are often painted bright or bold colours (hence their name) or make a statement. They are a great opportunity to incorporate colour in an elegant way without overdoing it by painting every wall of a room the same colour. Keeping one colour bold and the rest of the room neutral will help ensure the elegance remains. Want to take it a step further? Besides just colour, feature walls can also have a different shade, design or material from the other walls around it. Now that's a feature.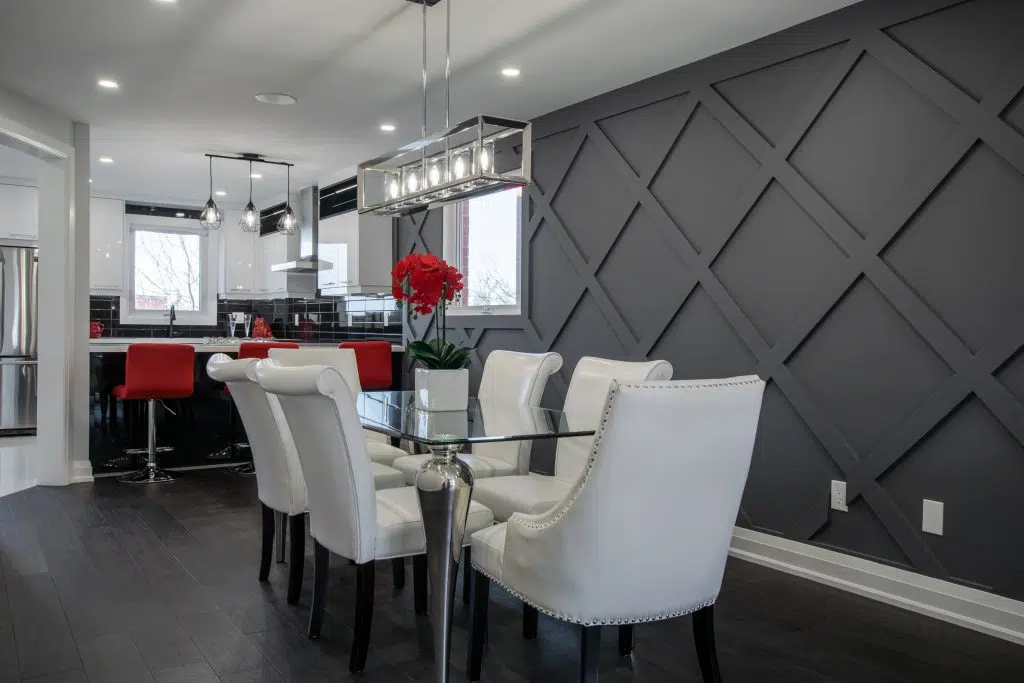 Whilst this is all insightful, you might still be after some additional, specific recommendations and here they are:
Add colour in the form of accessories and decor (pillows, throw rugs, vases, artwork)

Add colour in the form of tapware, handles, knobs, etc.

For a more significant addition, consider the idea of a statement coloured couch

Similarly consider the idea of a statement coloured kitchen (navy blue is a great option and is not too overbearing)
ATTENTION MONOCHROME LOVERS
Not a big colour fan? For those who are more monochrome obsessed, a great place to start is with natural earthy tones (e.g. browns and greens). This is a subtle yet significant way to begin introducing colour into your home, without being too bright and bold.
Tip: Indoor plants are a great way to introduce the colour green in a natural unassuming way.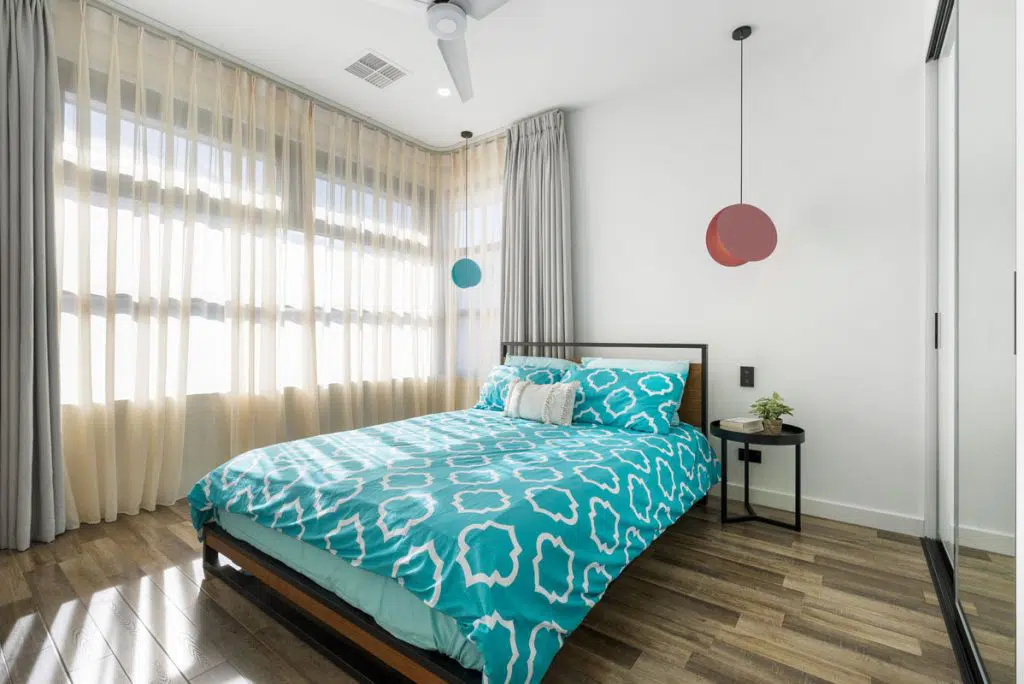 Our bottom line is this; do not be afraid to experiment with colour. It may take some time to find a colour that suits you and your home, but this discovery is well worth the time. Here at Lofty, our team are ready to help you decide upon a colour scheme that is stylish, elegant and best suits you. Get in touch HERE.