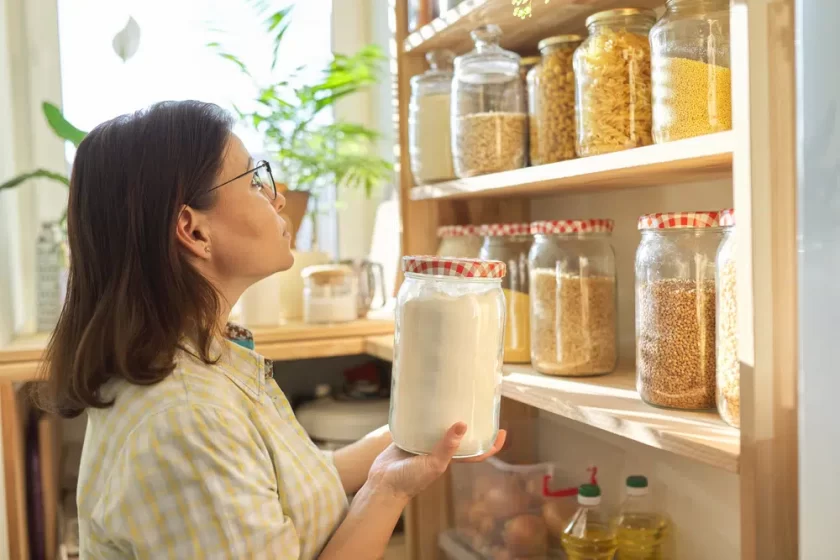 Butler's pantry vs walk in pantry. What's the difference?
Storage space is extremely important in a home, particularly in areas where belongings need to be regularly accessed e.g. in the kitchen. Of course you can gain storage space through cupboards, benches and shelves, however another innovative way to do this is through a cleverly designed pantry.
The two most common types of spacious pantries are butler's pantries and walk-in pantries. But what's the difference between the two? This blog will outline these differences and discuss the pros and cons of each.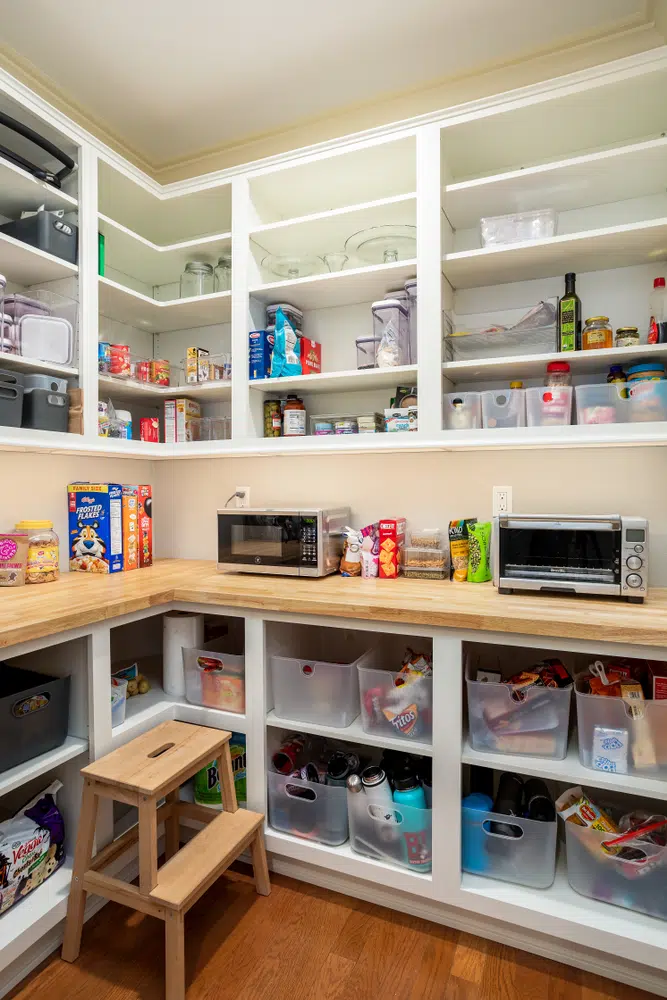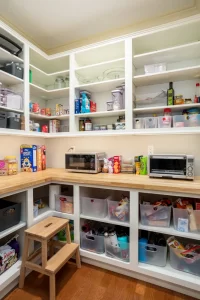 WHAT IS A BUTLER'S PANTRY?
A butler's pantry is more than just storage, it is an entire extra room and essentially an extension of the kitchen. Some even say it's a kitchen within a kitchen. They are often decked out with additional counter space, appliances and a sink, as well as your regular storage space. Not every home has the room to fit a large butler's pantry and so it is important for the design to work with the space you have. Discover what you need for your lifestyle and base the design off that.
HISTORY
Historically, butler's pantries were used as a place for, you guessed it… butlers to complete certain tasks. They were sometimes referred to as a 'scullery' and used as an area for butlers to polish crockery, china, platters, etc. These days, butler's pantries are used as an area to prepare food and clean up out of sight of visitors. Whilst we may not all have a butler, butler's pantries can still offer an array of benefits for us in today's world. Made a mess in the pantry right before guests arrive? No stress, simply shut the doors to keep it out of sight and clean up after.
PROS
Extra space for storage

Extra space for food preparation

Extra space for cleaning

Extra space to house

bigger appliances

(e.g. air fryer, coffee maker) whilst not having them stored too far away

Provides an alternative area to cook and clean without dirtying your main kitchen (particularly beneficial when entertaining)

Endless design possibilities
CONS
Takes space away from the actual kitchen / other area of the home

Comes with a price tag as you are essentially building a

second kitchen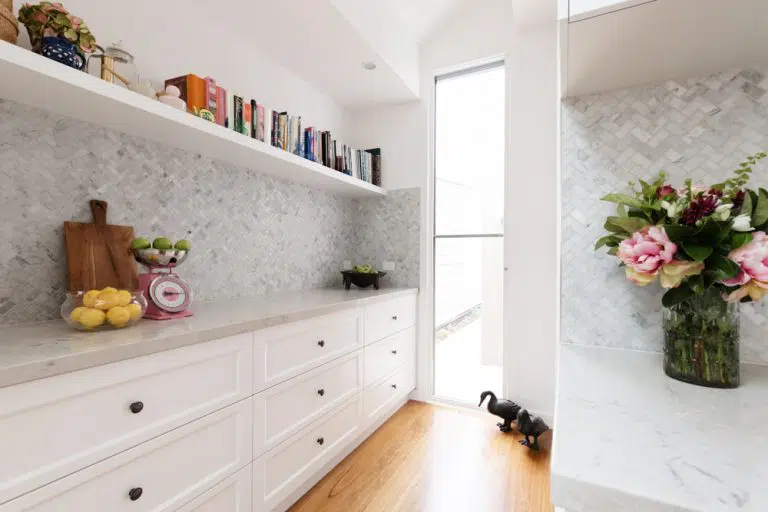 WALK-IN PANTRY
As opposed to a butler's pantry, a walk-in pantry is more focused purely on storage. Nonetheless, it is still considered absolutely top tier in regards to kitchen pantry options. These pantries can be completely walk-in or partially walk-in.. Most commonly used to store canned or packaged goods, beverages and cleaning supplies, walk-in pantries can act as a pivotal part of one's kitchen.
HISTORY
Quite often adjacent to a kitchen, walk-in pantries come in a range of shapes, sizes and designs. A traditional walk in pantry is focused solely on storage with little to no bench space for those additional appliances or a sink. It's that nice middle-ground between your regular pantry cupboard and a full scale butler's pantry.
PROS
Ample space for food storage

Can provide some storage space for appliances

Makes it easier to organise food items and other supplies

Easier to keep up with

inventory

and easier to access your goods

Out of sight storage (e.g. you could use hooks to hang aprons and kitchen utensils)
CONS
Takes space away from the actual kitchen / other area of the home

Can be costly depending on the necessary design involved

Need enough space that your walk-in pantry isn't uncomfortably narrow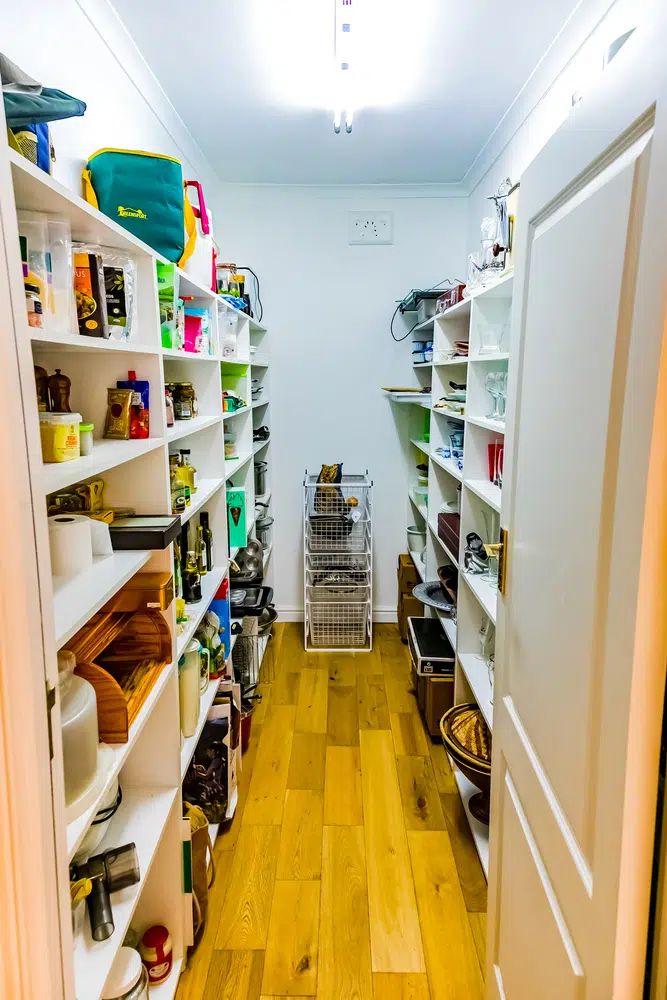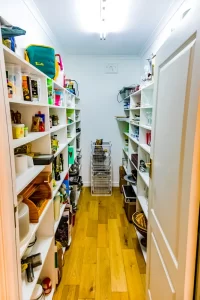 So there you have it, a clear description of both butler's pantries and walk-in pantries. A butler's pantry is essentially a mini kitchen with ample bench space and quite often a sink. Whereas a walk-in pantry is more so designed to act as a storage area. Of course these large types of pantries may not work for every home space or budget. This is why it is important to suit all home design to your personal lifestyle and include features that will be useful to you, not just because you like them. Doing this will assist you in making the right decision for you, your lifestyle and your home.