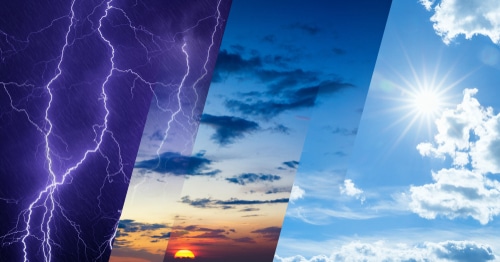 How do unpredictable weather conditions affect a construction project?
There are many factors that can determine how smoothly a construction project runs, however by far the most common is the weather. The construction industry is one of the most vulnerable to adverse weather conditions being that most works need to be completed while exposed to the elements. The weather is likely to impact any construction project in one way or another, with 45% of all construction projects being affected, to some degree by the weather. This blog post will discuss unpredictable weather and its effect on a construction project. From rain and storms to heatwaves and winds, we will cover it all.
First up, winter in all its glory.
RAIN
It would be naive to expect no rain during a construction project. We all know the weather can be unpredictable and wild weather can happen all year round. Rain makes it difficult for construction teams to work on outdoor construction projects by decreasing productivity, contractor safety and sometimes leading to the stoppage of works.
Rain also poses the risk of flooding. You should be aware of the risk of flooding in your area. To check your area in Adelaide, head to WaterConnect SA's website.
Further to this, if water makes its way onto building sites without being properly managed, there is a risk that this could lead to delays due to increased ground saturation levels which can ultimately affect the project completion date.
Here are some other common consequences of rain:
Decreases productivity, worker safety and can lead to total stoppage of works

Potential for excavations to collapse, or become flooded/filled with water leading to increased work cleaning, shovelling and pumping in the aftermath

Building finishes and materials exposed to the elements which can cause damage and lead to delays if drying time is required (materials should be adequately waterproofed)

Could make sites inaccessible and heavy equipment can become bogged down

Site becomes slippery and muddy which makes it unsafe to carry tools or materials around, vehicles cannot get traction (made worse if sloping site) and the site becomes incredibly dirty which can lead to work being halted until safety improves

Power tools obviously cannot be used in uncovered areas during heavy rain and storms which slows works down

Some jobs simply cannot be completed during rain (concreting, roofing, bricklaying and earth moving)
STORMS + LIGHTNING
Severe weather brought upon by storms not only causes damage to the project site but can result in workers being unable to work due to safety concerns. Lightning can result in the project being temporarily shut down. A direct lightning strike on an item of equipment can cause damage which can be costly to repair. Lightning can also prove to be a safety concern for workers, in a worst case scenario it can cause serious injury or even death. As the danger can be severe, construction will cease and as a precaution, tools, equipment or other materials may need to be removed and reinstated when weather conditions improve. Construction relies heavily on power tools, which for obvious reasons cannot be used in uncovered areas during a storm.
WIND
Common consequences of gale force winds:
Prevents workers from lifting materials with cranes or completing works above ground level (cannot be on scaffolding or roofs)

Can cause physical damage or injury by blowing construction materials around

Might cause dust or dust storms which decreases visibility, safety and can present a danger if ingested and could stop some operations due to clogging up filters on machines

High winds can pick up and carry sparks from power tools posing a fire hazard

Large materials being picked up by hand or machinery can act as a sail
Next up…summer.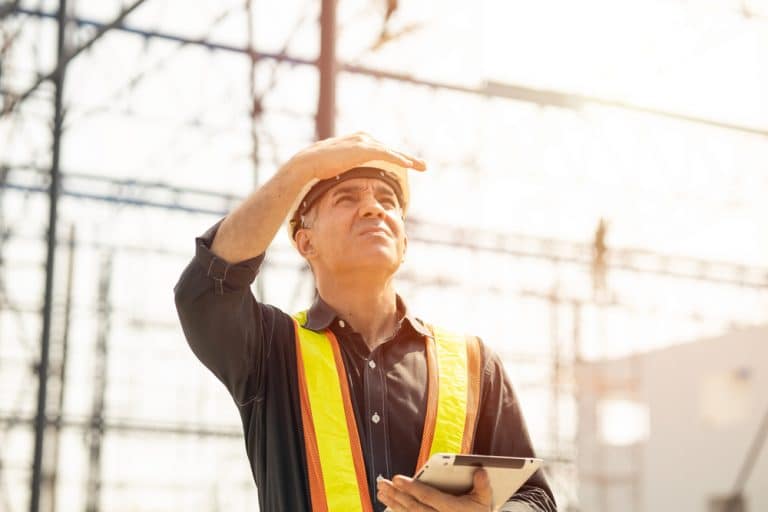 HEAT WAVES
Extreme temperatures can be dangerous and heat stroke can kill. Of course, workers will continue working for as long and safely as possible, taking breaks as necessary and keeping properly hydrated. For the safety of contractors and the protection of assets, trades are unable to work when the weather is over a certain temperature (35 degrees). Extreme heat can also cause some materials or machinery to become too hot to touch, operate or potentially cause a fire if sparks are produced. Due to this, delays can sometimes occur to protect worker safety, equipment, assets and to reduce risk.
Some of the ways construction teams may reduce some of these risks to optimise build times in such conditions are:
During hotter days, workers may choose to adjust their working hours to avoid the harshest temperatures and keep the project on track

Site safety plans are put in place which integrate protective measures

Pre wet a site

so it can be cut in line with an

engineers report

(this may be required of the client to organise)
In conclusion, construction projects are not immune to unpredictable weather conditions and therefore it is important to have a plan in the instance your construction project is hit with harsh weather conditions. Being in the construction game means that builders, such as Lofty Building Group are well equipped to handle whatever weather conditions are thrown their way and will have plans in place to mitigate risk and ultimately keep your build running as close to schedule as practicable. The unpredictability of weather is not always an issue, in fact it is important to note that it all depends on what stage the build is up to, what season it is and the locale (hills, beach etc.) in which the project takes place. Whether it be rain, storms or extreme sun, construction sites cannot be completely protected from ever-changing weather conditions. Yes, it may slightly delay a project, but the most important factor is the quality of the build and the safety of all involved.