Custom Home Builders in Adelaide
Finding the perfect custom home builder doesn't have to be hard
At Lofty, our Adelaide custom home builders are setting the standard when it comes to quality, speed and affordability. Don't compromise when it comes to designing and building your dream home. Our team work super closely with you from start to finish, resulting in a perfectly designed home for you.
Our process for building custom homes keeps things simple, while saving time and reducing costs without compromising your vision.
Your requirements are our priority as we work with you to capture lightning in a bottle as we realise the perfect custom designed home that reflects your personality, lifestyle, needs and wants.
With extensive knowledge of local suburbs including council guidelines, regulations and the planning and approval processes, we provide transparent advice upfront so you know where you stand and don't have to stress about your custom home project.
It's about making it easy, and providing you with certainty of fees and timeframes.
A library of designs to start from
You might be wondering why we have an extensive library of home designs if we're custom home builders—the answer is simple: our home designs aim to spark inspiration and can help you develop your own exciting ideas.
We provide a range of custom home designs from the essentials all the way up to a luxury home.
We understand that some people may already have a good idea of their home's design, features and layout. We also understand that others will be relying upon our professional design team to help craft the stylish home they'll love.
All our designs are fully customisable and can be tailored to suit you, so they are the perfect place to start if you're not quite sure what you want yet.
View our customisable home designs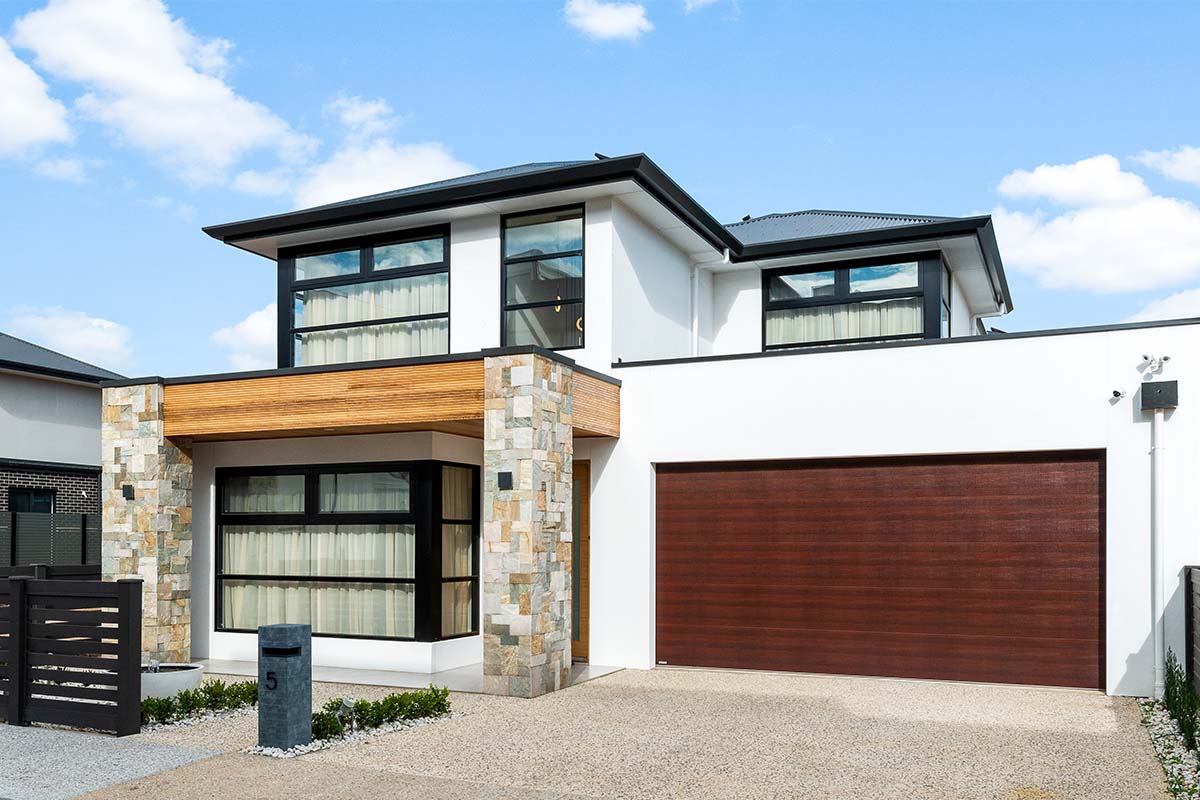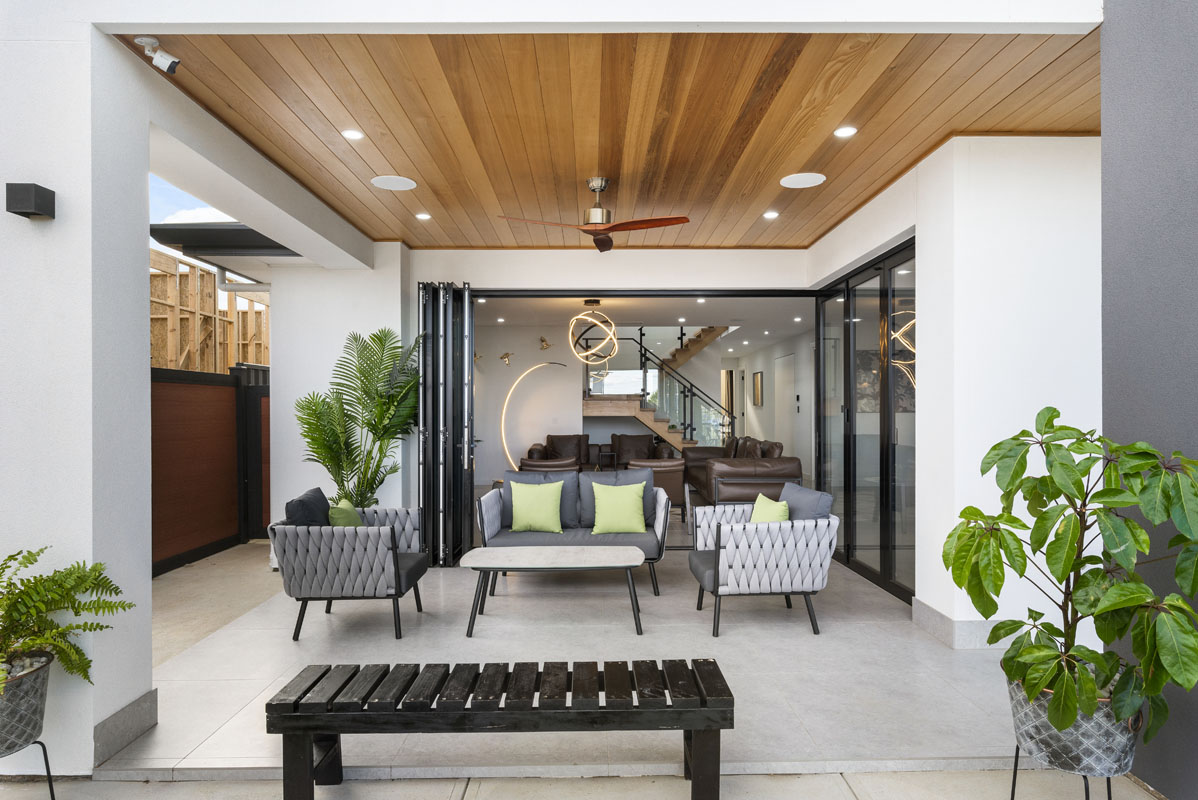 Already have your home plans ready to go?
No sweat. We can assist you at any stage of your project.
Contact us (or check out Lofty BYO) and our friendly team will have a chat with you to identify your needs. We will be able to review your current design or plans, and suggest any potential ways to add value, save time, reduce costs and take advantage of any existing grants.
Find some inspiration for your custom home build
Check out some homes we've built to get your own ideas flowing.
Custom Home Frequently Asked Questions:
What is a custom home builder?
When we say we're custom, we mean it. Everything is one-of-a-kind and every aspect of your plan can be customised exactly as you'd like it. Your home is specifically designed with and for you and your lifestyle. Custom builders like us are flexible and adaptable to changes and provide a tailored service, resulting in a more personalised process. Some builders have set plans that you must choose from to build your new home with little to no personalisation on offer. So while these are perfectly functional homes, if you already have an idea of what it is you're after, it can be difficult to find a plan that lives up to your expectations. While we do also have standard plans available, these can simply be used as a starting point and each aspect of the design is able to be modified to suit your needs.
Why choose a custom home builder?
If you already have a concept or design in mind, have specific wants or needs for your home, or you simply just like the freedom of being able to change any aspect of your design with no additional fees or push back, then a custom home builder should be your first choice. You have complete control over the layout and design of your home, we are simply here to guide you and provide our expertise to get you to that dream home goal.
How to choose a custom home builder?
Transparency, reputation and quality are amongst some of the most important aspects when choosing a custom home builder in Adelaide. With Lofty, we've designed our process to be super simple, with a high level of transparency and communication throughout. We have countless happy customers; you can hear about their experiences here (link to testimonials page). We also encourage you to view the quality of our builds by visiting our display homes (link page). Unlike some display homes, ours are homes built to be lived in and shows a true Lofty finish.
Is building a custom home more expensive?
The long and short of it is, yes building a custom home can be more expensive than building an 'off the plan' home, but at the end of the day you will find each type of build is comparable in terms of price once you consider the final turn-key outcome. Building a custom home has a range of benefits, namely the fact that the home is designed specifically for you and you will not be nearly as limited in your choice of features and finishes.
Often, volume builders with set floor plans will offer limited to no customisation, so modifying a plan can become expensive quickly. Ask yourself, why modify a plan to suit you, when you can have a plan designed for you? The base prices provided by this type of builder will typically be for the most basic of home (not the ones you see in a display village) and will exclude some important features such as air conditioning, paths and driveways.
It is important that when getting quotes from a range of builders, you make sure each is comparable, apples for apples and includes everything you want in your home. We suggest that you do not work from base prices or prices per square metre, because you will find that these will vary wildly from builder to builder and are largely dependent on what you choose to include in your build.
If you want your build to be fast, custom, effortless, and ultimately more affordable, you should work with Lofty. Our design and construction teams have years of knowledge and experience when it comes to building a home. Since we combine the design and build process, we can make the entire project more efficient—and thus more affordable for you. Find out more about the benefits of building custom on our blog.
Will I have help with the design process?
Of course, we understand that some people may know exactly what they want, but many clients are looking for professional guidance in designing the right home layout, colour schemes and selecting all your finishes. Lofty has experienced people in every department, ready to assist in designing a home perfect for you. The perfect home requires attention to detail, understanding your specific needs and designing around your lifestyle. With our expertise we will help craft the perfect plan for you.
How long does a custom home take to build?
There are a few factors that determine the length of the build timeline. There are also some factors outside of our control, including council approvals. For the build itself, we have a detailed breakdown of the timeline here.
Can I choose the fixtures, fittings and finishes?
Definitely. Making your selections can be one of the most exciting and daunting aspects of your build journey. Soon enough you'll find yourself ready to make your selections for your new home build. Once you reach this stage you will be guided through The Gallery (link), our in-office selections studio, and the process by our master Selections Consultants, to make choosing your home finishings incredibly simple. Our team will help you bring your home to life with high quality finishes that suit your style.
What is the process to get started on building my custom home?
It's super simple. You can book online (link) or call our office (link) to make your first appointment with the team. You'll find as you discuss your plans with our team, we can help align your vision and take those first steps toward building your new home. Don't put it off any longer. Make your next move today.
Why should I use Lofty Building Group as my custom home builder?
You should choose Lofty if the following things are important to you when building your new home – a simplified and straightforward process, regular communication about your build, accessibility to the team, transparency, fully customisable designs, high quality finishes and a top reputation from previous clients.
To meet with our team to discuss your next home build, book your consult here.