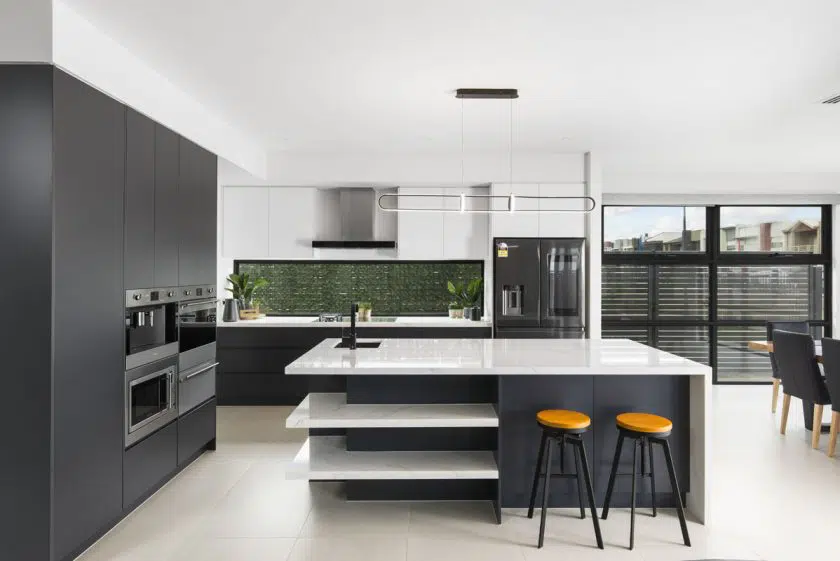 The Most Popular Kitchen Trends of 2021
For the past two years, many of us have spent more time at home than we ever have before, and our day to day routines changed significantly. We've possibly prepared more meals in our kitchens than ever, it's one of the most important rooms in your house. Creating a space that evokes happiness and peace is super important with function and design going hand in hand. With cool new kitchen brands popping up left and right, you won't run out of on-trend looks and state-of-the-art appliances to pick from. So if you're thinking about building a new home, you're going to want to make sure you get it just right. Looking back this year, here are the most popular trends of 2021.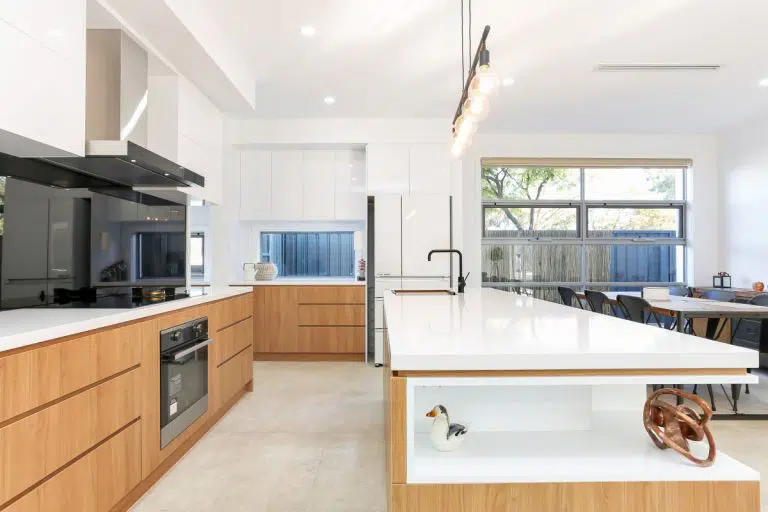 Statement Lights
People use accessories to elevate their outfits, the same goes for indoor lighting. Making a statement in your home with a striking fixture will surely liven up your kitchen and adds an entertainment factor to it as well. An ultra modern pendant light above your island benchtop always makes an impression. There are tons of styles you can choose from depending on your personal taste. This will definitely make you see your home in a whole new light.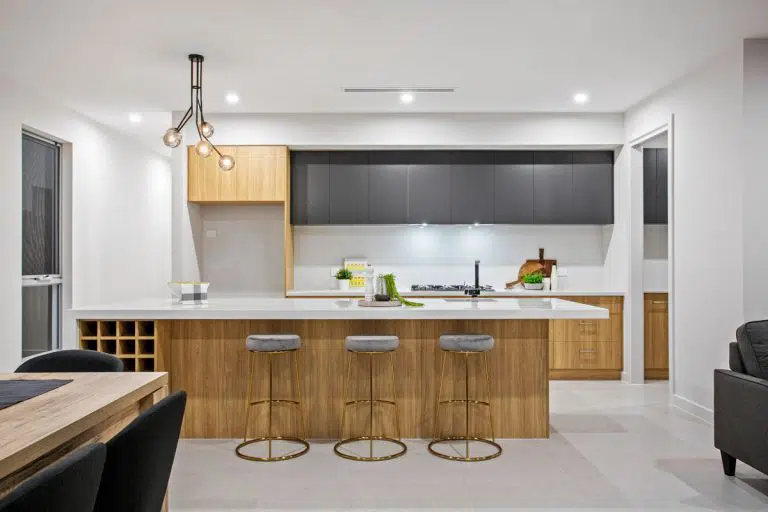 Colour Pops
One of the hottest trends this year are pops of colour in the kitchen – it could be the kitchen island, kitchen wall cabinets, splashback and more. A fresh colour choice can bring a lot of sophistication to your kitchen. Incorporating colour pops can either be quite subtle or fairly bold, depending on your personality and style. Popular choices include bright whites with a matte finish paired with black and soft greys, but then adding a colour pop of an earthy colour including blues, mint and green. Take a look at some examples.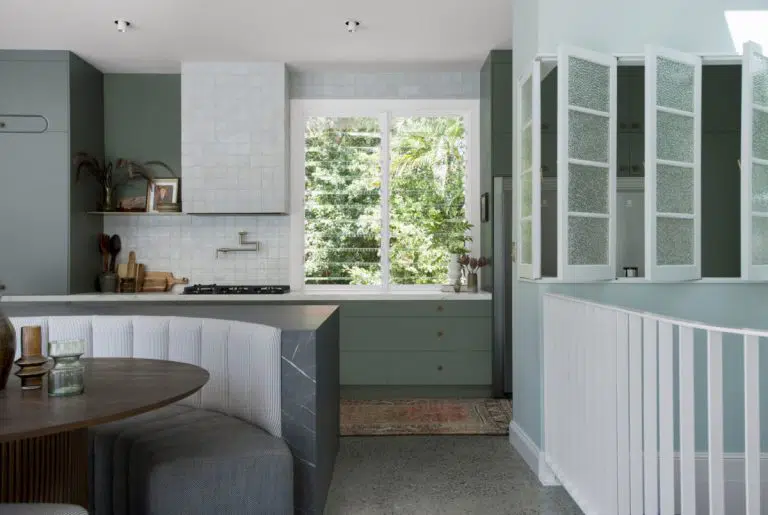 Natural Feel
Wellness has been more a priority recently and it has extended to personal aesthetics. Natural materials are recognised more recently for their apparent health benefits, as there are less chemically treated items in the home. This style focuses more on clean lines that evoke softness like matte or brushed finishes. Emphasising organic and nature-inspired materials as well such as wood, marble, and granite celebrates its versatility in regards to function and design. Biophilic accents like herb gardens and plant fixtures are also a good addition.
Gold and Brass Finishes
Stainless steel and nickel has been the norm for lighting and plumbing fixtures for so long. Gold and brass finishes are a refreshing alternative for your kitchen. Both are classic and add a subtle touch of elegance in your home. You might think that this trend may seem too gaudy, however the updated finishes of these materials are more on the matte side which suits a variety of home designs. Newer gold finishes like Champagne Bronze and Bronzed Gold complement modern contemporary rooms, mixed metals room finishes, and even elevate a traditionally styled classic room.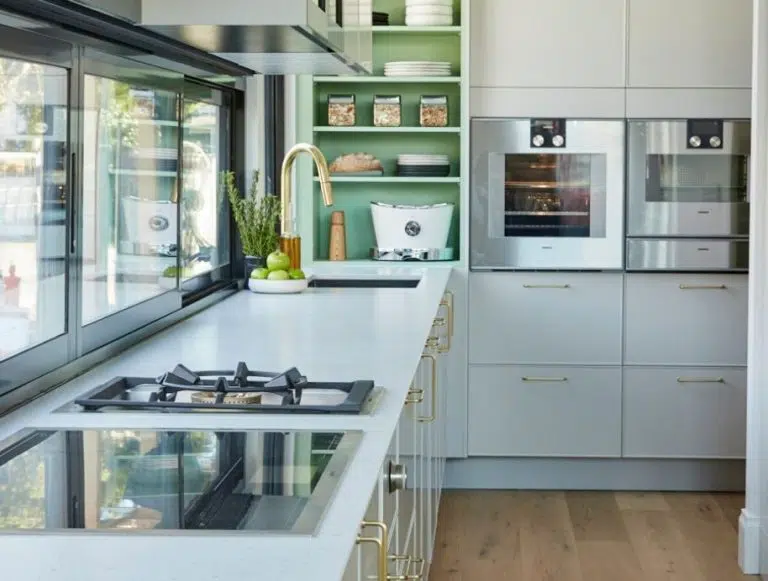 Handleless Design
If your personal style is more minimalistic and modern, then this 2021 trend is for you. Handleless kitchens provide this flat, sleek look that is as functional as it is stylish. The smooth surfaces make your kitchen look streamlined along with the different finishes to choose from according to your tastes. Touch-to-open hardware is also a notable option as it would be easier to open when you have your hands full. It would be more hygienic as well in handling placing items in bins. Touchless taps are also an ultra modern feature that allow you to use the tap with either motion or voice controlled commands. This style also makes your kitchen child safe as you won't have to fear for your children bumping into knobs and handles.
Increased Storage
The pandemic has birthed a lot of at-home chefs, resulting in a lot of purchased kitchen appliances, utensils and more groceries. Incorporating more efficient pantry and freezer solutions that accommodate more items such as kitchen organisers, wall cabinets, and freestanding furniture will make your kitchen space-savvy, while also being pleasing to the eyes. You'll definitely want to make sure you design in plenty of storage space for your kitchen when designing your build.
Multi-purpose Spaces
Kitchens are no longer just about functionality but now they are seen as an interacting and entertaining zone to gather and socialise. One way to make your kitchen multi-purpose is by installing a wine storage unit within your kitchen island. This aims to emulate the vibes of pubs and restaurants despite staying in. It will certainly impress the few people you can invite for dinner as well. Also, increase the depth of your kitchen island to make space for enough leg room and add island benches. It will transform your kitchen into a gathering hub bringing together family and friends.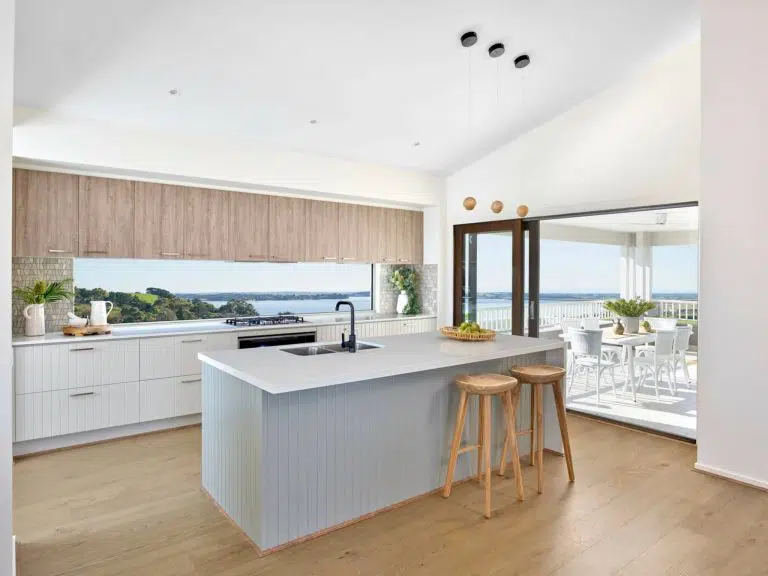 There you have it, the most popular kitchen trends of 2021. We've seen the pandemic starting to influence the design and functionality of the home and more emphasis on good hygiene practices, especially in the kitchen where food is prepared. If you're ready to start designing your new home – get in touch with Lofty today.