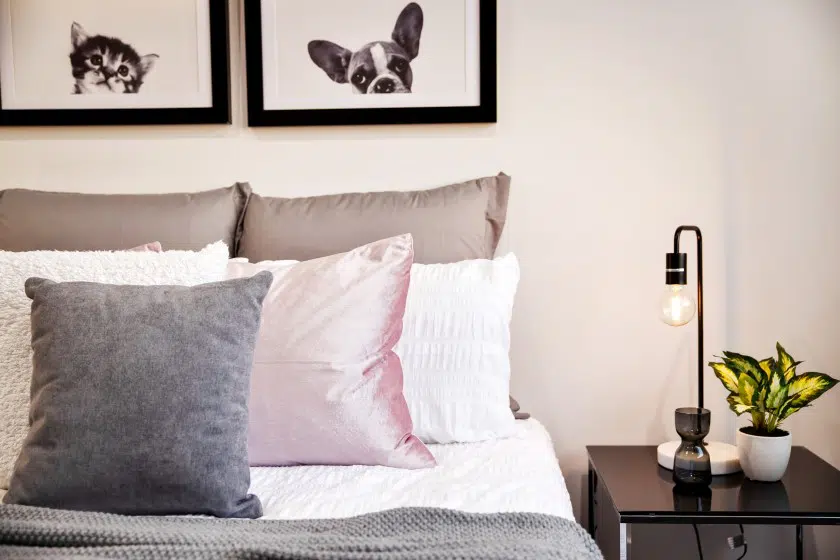 5 Tips to Design a Pet-Friendly House
Our furry, fuzzy, scaly, and feathered friends are an important part of most families today. According to the RSPCA, as of 2020, approximately 61% of Australian households own a pet.
With those type of figures, it's no wonder more people are incorporating pet-centric designs into their new home builds.
At Lofty Building Group, you're always in good hands. We're the new home builders Adelaide residents know they can rely on when it comes to pet-friendly house designs.
We understand the significance of a functional design that suits all the furry and non-furry members of the family, to keep everyone happy and comfortable.
Below we've listed our top 5 pet-friendly house features to consider when building your new home:
1. Pet-friendly Floors
Flooring is a major part of any home, but when you have indoor pets to also consider – there are extra aspects to keep in mind.
Durable, slip-resistant and scratch-resistant flooring in high traffic areas for your pet is an ideal option.
Our recommended flooring options to suit pets include:
Laminate
Vinyl
Cork
Bamboo
Porcelain
Ceramic
Concrete
Stone
Marble
These materials are not only resilient, but are easy to clean and harder wearing, making it difficult for those little claws or nails to scratch the surface. These flooring options provide the additional benefit of keeping your pets cooler in the warmer months.
If hardwood floors are your dream, we recommend opting for a matte or low sheen finish. Glossy floors are likely to show up any of those expected scratch marks and other damage that may occur with pets walking on this type of flooring surface. Distressed hardwood floors are also a good option, as it provides a unique look for your home and any scratching from your furry pal should blend right in.
What type of carpet is good for pets?
If you have pets and you'd prefer carpet in your home, durable, low-pile, and stain-resistant is the way to go. Wool and carpet tiles are great options. Stay away from carpet with loops, as these can snag in claws.
High-pile plush carpet doesn't always mix well with shedding fur, muddy paws or those unfortunate pet accidents.
2. A Space for Everything and Every One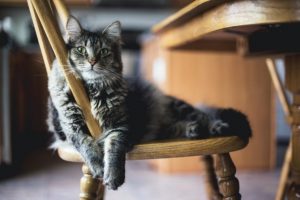 Incorporating a space for your pet and your pet's needs when designing your new home, rather than as an afterthought, is highly beneficial and will avoid some future headaches. The last thing you want to be doing when you move in is tripping over pet food, bowls, beds and litter trays.
When it comes to pet-friendly and space-saving house designs, the new home builders Adelaide locals have complete confidence in is the team from Lofty Building Group.
We've worked with countless pet owners through the design stage to ensure practical spaces and storage options are incorporated, creating a dream home suitable for the whole family.
As we've mentioned in our other blogs as well, always be future-proofing your plans for your home. Are you likely to have more pets in the future? Consider how your situation may change in the future and plan for it accordingly.
Ideas for pet-related storage and space features in your home include:
Built-in feeding stations within laundry or kitchen cabinets.
Specific storage compartments for pet products, toys and food.
Cat-accessible cabinets, with good ventilation, keeps litter trays out of sight and gives your cat some privacy.
Built-in dog beds within cabinets, built-in wardrobes, window seats or underneath stairs provide a great space saver, along with being a comfortable and cosy spot for your pooch.
Recessed pet gates that slide in and out from the wall.
A built-in dog wash station keeps your home free of muddy paws.
A built-in bookcase can double as a catwalk.
3. Consider a Pet-friendly Entrance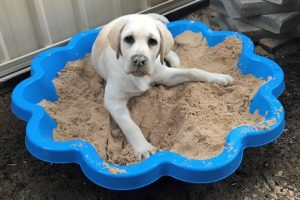 Pet doors, which are often leading to the backyard, are easy to install and convenient. But, if you have a pet such as a dog, you might often be taking them out of the house for adventures; this can mean coming home with muddy paws, sandy fur, or possibly some unidentified muck that they've rolled in.
Considering this, designing your home with an alternative entry that leads straight to a place to wash off and wipe down muddy paws and shoes, can keep everyone happy. And, means no cleaning up the trail of mess throughout your home.
Mud rooms are no longer just for American homes
One room that's becoming increasing popular within new Australian homes is a mud room. Usually located at the rear of your house, a mud room offers excellent benefits to both pets and humans. They make for the perfect place to keep the items you use often, such as dog leads, pet toys and food, bags, shoes, prams and jackets, in the one central, practical and mess-saving space. And you can easily clean off in there before entering the main areas of your home.
Another effective feature that you could introduce, close to a rear entrance of your home, is an outdoor shower which includes a hand-held shower head. Perfect for washing down muddy or sandy paws, feet and shoes before coming inside. Be creative and think practically. You won't regret doing this after those dirty days at the dog park!
4. A Built-in Wash Station Saves Time and Money
One pet-friendly feature in new homes, that's rapidly growing in popularity is incorporating a dog wash station into either the laundry, mud room or bathroom. Washing stations save homeowner's valuable time, money and hassle.
Connected to hot and cold water, pet washing stations include a spray nozzle and often a ledge or recessed shelf for washing products. They can look like a shower but half the height or, if you own a small pet, the washing station may be a deep tub located at counter height.
Realtor reports have also shown that if you sell your home later to another dog owner, the small investment of including the washing station is more than recuperated. So not only do you get to use it, but it could end up adding value to your home should you choose to sell.
5. Get Creative with a Standout Feature Wall
We couldn't leave without giving a mention to Australia's third most popular pet – the fish. A great companion that can't mess up your house, or ruin your furniture.
A well-thought-out fish tank can add a modern and striking aspect to your home. A fish tank is easy to incorporate into your new build, should you wish for a stunning feature tank within a wall, for example.
For cat owners, another trending feature is including a climbing wall or elevated walkway.
As a custom builder, you can bring any other ideas you have for a pet-friendly home and we can make it happen.
When it comes to Pet-friendly New Home Features, Talk to the Experts at Lofty Building Group
Designing your home with your pet in mind opens up the opportunity to integrate creative and practical features, which not only look beautiful but benefit all those that reside in the house.
Lofty Building Group is the team of new home builders in Adelaide that have created numerous pet-friendly dream homes. We've done it all, and we guarantee that we can help you too.
Talk to our team today on (08) 8266 0011 about how we can build your new home, with the entire family in mind.
Have you heard about Lofty Fast Track*? Our Adelaide new home builders will build your custom, quality home within 12 weeks, or we'll pay you*! Go here to find out more.