HomeBuilder Grant Extension
There's still time to take advantage of the $25K HomeBuilder Grant in South Australia
Have you heard the great news?
The Federal Government has extended the HomeBuilder Grant for a further 3 months, to 31 March 2021. This is incredible for those wanting to build a new home, buy a brand new or off-the-plan home, or substantially renovate (e.g. knock-down and rebuild).
This is a rare opportunity and certainly one that shouldn't be missed – but time is running out!
Currently, the Grant amount available is $25,000 for contracts signed between 4 June 2020 and 31 December 2020. Under the new extension, contracts signed between 1 January 2021 and 31 March 2021 inclusive, may be eligible for a reduced Grant amount of $15,000 – which is still a fantastic bonus.
At Lofty, we don't want you to miss out on obtaining the full $25,000 Grant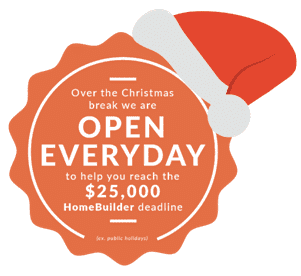 Which is why we are staying open over the Christmas and New Year period, to ensure your contract can be signed by 31 December 2020. To assist you to reach the deadline, the only day we'll be closed is Christmas Day.
This is the perfect time to get into homeownership, and finally build the home of your dreams. And, if you're a first home buyer, then you may also be eligible for the First Home Owners' Grant of $15,000. A potential $40,000 in Government Grants is definitely a great reason to stop dreaming and start planning.
What is the HomeBuilder Grant?
Originally announced on 4 June 2020, the Commonwealth's non-taxable HomeBuilder Grant is a $15,000 to $25,000 boost to assist those building a new home, buying an off-the-plan/new home, or undergoing substantial renovations to an existing home.
The Grant is available to eligible owner-occupiers who have signed building contracts between 4 June 2020 and 31 March 2021 inclusive, with the construction to commence within 6 months of signing the contract.
We're staying open over Christmas to help you make the most of this opportunity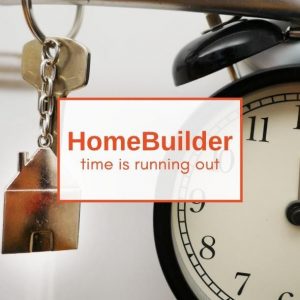 If you're looking for a House and Land package in Adelaide, at the point where you're ready to build, or you're considering a knock-down/rebuild of your current home, Lofty Building Group is the team to call.
You can trust that you're in safe hands with Lofty, and you're guaranteed exceptional service with our licenced, award-winning custom home builders in Adelaide.
We understand the significance of this extraordinary opportunity, being the HomeBuilder Grant, and know how much this boost can truly assist in getting you into your brand new home. We won't rest over the Christmas and New Year period to ensure South Australians can meet the 31 December 2020 deadline, to take advantage of the maximum Grant amount available of $25,000.
What are the HomeBuilder Grant eligibility requirements for South Australia?
To be eligible for the HomeBuilder Grant in South Australia, for new home builds, off-the-plan/new homes, or knock-down/rebuilds the following requirements must be met:
The home must be located in South Australia and be able to be lawfully used as a place of residence.

Individuals or couples may apply. Couples must be legally married, in a registered relationship, or a de facto couple living in a genuine domestic relationship.

All applicants must be Australian citizens, 18 years of age or older.

Identify as a natural person, not as a company or trust.

Meet the income cap for either the 2018-19 or 2019-20 full financial year: Individual applicants are to have a taxable income of less than $125,000, or couples combined income needs to be less than $200,000.

Retain ownership and reside in the property as your principal place of residence for a continuous period of 6 months or more, within 12 months of the construction completion date for new builds, or being listed on the certificate of title if buying a new or off-the-plan home.

The land must either be owned at the time the contract is entered into, or the applicant/s will become the owner/s of the land upon completion of the contract.

Construction must commence on or after 4 June 2020, and within 6 months of signing the contract.

The property value of a new build cannot exceed $750,000, this includes the value of the land and the new house.

The applicants cannot have previously received the HomeBuilder Grant anywhere else in Australia.

The contract needs to have been negotiated at 'arm's length' (commercially reasonable) with the building contractor.

Ensure the builder or developer holds a valid building licence, as required under the Building Work Contractors Act 1995.

The HomeBuilder Grants available –

$25,000 where the contract has been signed between 4 June 2020 and 31 December 2020, inclusive.

$15,000 where the contract is signed between 1 January 2021 and 31 March 2021, inclusive.

Investment properties or holiday homes are not included.
Please note: this is a guide only. For full information on the HomeBuilder Grant for South Australia, please refer to the Revenue SA website. Further information can be found on The Treasury website.
Don't delay on this remarkable offer – there's still time to build with Lofty
Reap the full benefits of this great head start into building and homeownership in South Australia. There's absolutely no need to miss out on the full $25,000 HomeBuilder Grant. At Lofty Building Group, it's our aim to get you into your brand new home sooner.
Over the years, we've streamlined our processes to work smarter and faster. Through Lofty FastTrack, we provide an innovative, adaptable and stress-free approach to be able to build your custom home within 12 weeks. We never compromise on quality and superior workmanship is guaranteed.
Bring your own plans, or let's design your dream home together. For a leading Adelaide home builder that provides complete flexibility, transparency, first-class customer service and exceptional workmanship, call us today on (08) 8266 0011.
Experience the Lofty difference. We're there for you through every stage of the exciting build process.